July 24, 2023
Method Mortgage Summer Update – 2023
---

Method Mortgage Named Best Mortgage Company in Vestavia Hills
We are beyond grateful to have earned the title of 𝗕𝗘𝗦𝗧 𝗠𝗢𝗥𝗧𝗚𝗔𝗚𝗘 𝗖𝗢𝗠𝗣𝗔𝗡𝗬 in Vestavia Hills for the 2nd year in a row! Thank you to all our amazing partners and clients who took the time to vote for us! We are honored to receive this recognition and to serve our local community; Read MORE about the "Best of Vestavia Hills 2023" winners from Vestavia Hills Magazine.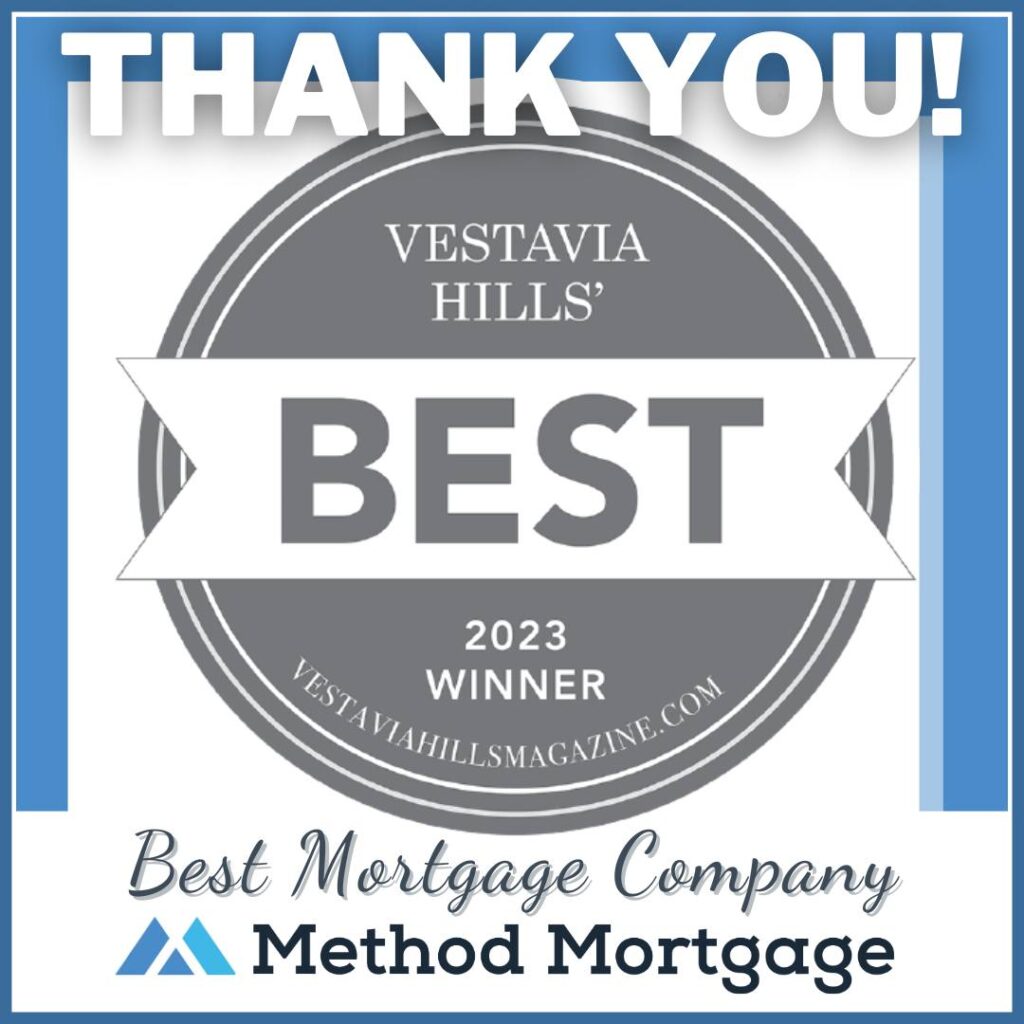 AU Harbert College of Business "Top Tiger" Award
For the 6th straight year, Method Mortgage has been named a Top Tiger by the Auburn University Harbert College of Business "Top Tiger" honorees are among the fastest-growing companies founded, owned, or led by Auburn University alumni. Method Mortgage partners Craig Tindall (93) and Adam Stoffregen (01) are alumni of Auburn University. This award would not be possible without our AMAZING TEAM! Congrats to all the other winners! See the complete list of 2023 Top Tigers, HERE.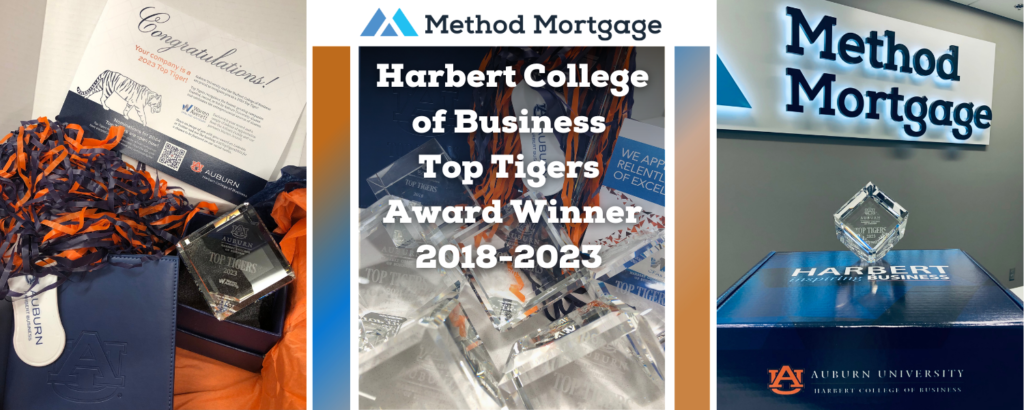 ---
Mortgage News
Regardless of the rate outlook, we are ready and excited about rolling out new products and options. One of our great new mortgage products is the Homestyle Renovation Loan, a dual-purpose loan that covers your new home or refinance, plus funds for repairs. With a HomeStyle Renovation Loan, the borrower can combine the funds they will need to buy and renovate into one loan, so there is only one set of closing costs and just one monthly payment to make. If you are purchasing a home that needs renovations or want to refinance to renovate your current home, this all-in-one purchase loan and home improvement loan is a fantastic option for buying a property that needs a little.. or a lot of work, whether you're buying a home to live in full time, part time, or as an investment property. Contact us for more information about this loan product to see if it could be a great option for you!
We are encouraging our clients to focus on what they can control in this market: getting the best rate they can for their situation. The most important thing is that they find the right home. The second most important thing is to find the smartest and most efficient way to finance it. If you have any friends, family, or coworkers who are looking to buy, sell, or refinance, we would love to earn the opportunity to help them find The Smartest Way Home.
---
G I V I N G • B A C K
Community Referral Program
We are proud to have the opportunity to support local charities and nonprofit organizations through our Community Referral Program. With each referral we receive, we donate $25 to our quarterly referral partner. Previously, we have worked with many fantastic organizations, such as the O'neal Cancer Center at UAB, Children's Harbor, The Jimmie Hale Mission, The Auburn Eagles Foundation, and neverthirst.
Thanks to your referrals during the 2023 2nd quarter, we were able to give $2,675 to The African Children's Mission, an organization that exists to provide Christ-centered support to children in need in East Africa and to minister to them. Click HERE to read more about this worthy organization.

Method Serve Day
It was an honor to participate in the Rise Against Hunger event at Vestavia Hills Methodist Church! Rise Against Hunger is an amazing organization on a mission to end hunger, targeting specific geographic regions all around the world where access to diverse and healthy food is limited. We helped pack meal bags, full of nutrient-rich food, to be sent directly where they are most needed. Each bag contains 6 meals, and each box holds 192 meals, which feeds one child for a school year. It was a blessing and privilege to serve together as a team!
---
Helpful Articles and Resources
In addition to this quarterly email, our loan officers wrote several informative articles that you may find interesting- whether you're considering buying, selling, building, or refinancing.
Our website has those articles as well as other great information for you to read. You can also take advantage of our mortgage calculator to help compare different financing options and determine monthly payments. For the most up-to-date information, please reach out to our loan officers, who will be more than happy to help with any scenario you may have. Stay in touch for the latest updates and knowledge all to help you find The Smartest Way Home.
---
Special Event Sponsorships
We had a blast at the Vestavia Hills Wing Ding! Each year, around 3,000 guests celebrate this Vestavia tradition. Wing Ding is a chance to come together and celebrate our great community while helping out a worthy cause. 100% of net proceeds from this year's event goes to Youth Leadership Vestavia Hills and other local charities. Over the years Wing Ding has raised close to $100,000 for worthy causes in our community. The Method Mortgage team was thrilled to win both 1st Place for fried wings and People's Choice!! Thanks to everyone who stopped by our tent to sample the wings and say hi.
The 41st Annual I Love America Night Celebration was a huge success! We had a great time meeting everyone at the Method Mortgage tent and were happy to see the huge turnout. The fireworks show was nothing but spectacular!
---
We would really appreciate your help…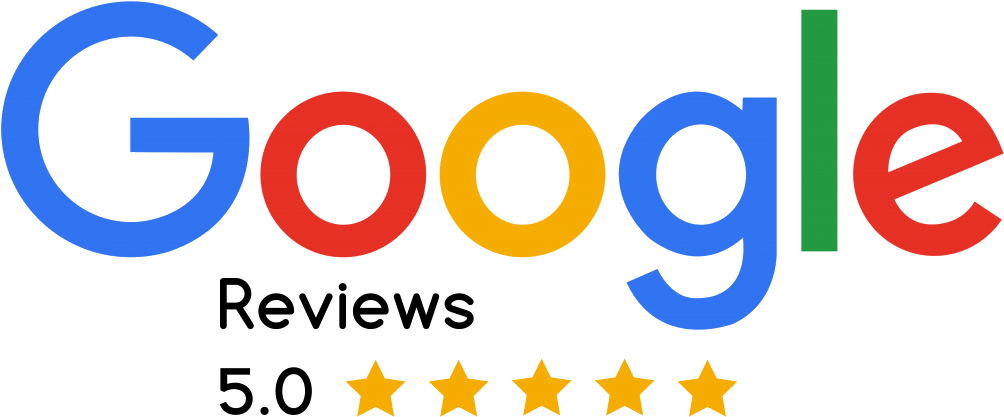 We have the best clients, partners, and friends who have shown us so much support and encouragement. As we continue to grow our company to help others with their mortgage needs, we could use your help by leaving a 5 Star Review on our Google Business profile. Google reviews make a huge difference when it comes to helping Method Mortgage reach more people and improve our service. Click HERE to go directly to our business page on Google where you can leave a review. Many thanks!
---
Contact Us Today!
We advise anyone looking to buy a home to stay in touch with us, as we're actively keeping track of the current market conditions. We can be your biggest asset when figuring out your home buying budget. We're here to guide you to The Smartest Way Home!