December 13, 2022
YOUR GUIDE TO HOMESTYLE RENOVATION LOANS 
---

Have you been house hunting but can't find a place that's affordable and move-in ready? It's time to broaden your search to include fixer-uppers. Buying a fixer-upper can be an affordable way to get into your desired neighborhood. You'll have more properties to choose from, and Method Mortgage can help with a renovation loan that combines the purchase price with the cost of improvements.
What is a HomeStyle Renovation Loan?
The Fannie Mae HomeStyle Renovation loan is a government-backed mortgage that provides funds to remodel and repair a house. Essentially, the HomeStyle Loan enables home buyers to borrow both the purchase price of the potential home and any renovation costs and wrap it up into one single mortgage loan amount. Likewise, homeowners who want to upgrade the house they're living in can refinance their mortgage and take out funds for improvements. While a traditional mortgage won't let you finance more than the home is currently worth, a HomeStyle Renovation Loan is based on what the property will be worth after you improve it.
A Homestyle Loan is different from a construction loan, which is generally for building an entirely new home. Instead, the HomeStyle Renovation Loan is for home buyers who want to buy a fixer-upper or renovate an existing structure and pay the renovation off each month when they pay their monthly mortgage. A HomeStyle Loan can offer a convenient, economical way for homeowners and homebuyers to finance home improvements through a single first mortgage or refinance. With this type of loan, the borrower doesn't have to take out a second mortgage, a home equity loan, home equity line of credit (HELOC), or some other potentially more costly method of financing.
"Fannie Mae's HomeStyle renovation mortgage is an

all-in-one purchase loan and home improvement loan."
How does a Homestyle Loan Work?
First, you'll get preapproved with Method Mortgage so you can see how much you're eligible to borrow. Once you know your price point, you can look for homes that you think could be purchased and fixed up for that amount or less. With a HomeStyle Loan, you can borrow up to the lesser of 95% of the purchase price plus cost of improvements or the "as-completed" appraised value of the property (as in, the expected post-renovation value), rather than the pre-renovation value. This allows you to borrow more funds for your project than you otherwise could. All home renovations would need to be completed within 12 months. Funds are disbursed as work and inspections are completed to help keep your project on time and on budget.
The HomeStyle Renovation Loan is super flexible when it comes to the repairs and upgrades you can finance. Some examples of renovations would be:
Gut the house and redo the interior, including the bathrooms and kitchen.
Add permanent landscaping features, like trees or a retaining wall.
Add luxury features, such as an in-ground swimming pool or outdoor kitchen.
Finish out the basement.
In short, you can do just about anything, as long as it will be permanently affixed to the property. And you don't have to go big: If you just want to finance new floors and new paint, that's fine too.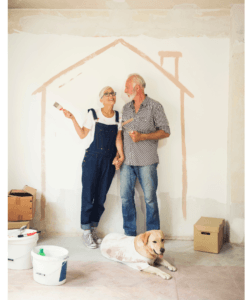 With a HomeStyle Renovation Loan from Method Mortgage, you can take advantage of low down payment options – whether you want to purchase a home that needs renovations or want to refinance to renovate your current home. By combining the funds, you will need to buy and renovate into one loan, you will pay only one set of closing costs and have just one monthly payment to make. This all-in-one purchase loan and home improvement loan is a great option for buying a property that needs a little… or a lot of work – whether you're buying a home to live in full time, or as a second home/vacation property.
Contact us today to start evaluating your options on The Smartest Way Home.